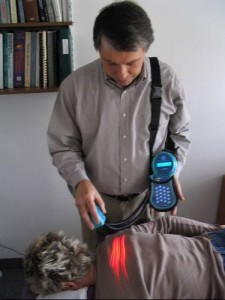 It may sound like Star Trek or Star Wars, but laser lights have been found to speed healing of injuries.  Cold lasers are low intensity lasers that don't generate any heat.  (High intensity lasers that generate heat are being used like scalpels to make incisions).  Low intensity lasers are designed so that the body's tissues and cells absorb the light, using it as an energy source.
Unbelieveable?  It has been shown that photo receptors on the surface of cell structures called mitochondria absorb the energy of the laser light.  These structures, the mitochondria are where fuel (glucose, fat) is burned in our cells to create cellular energy.  Lasers have been shown to increase the chemical energy in cells.  The cell is then able to function at a higher level and this translates into tissue healing.  With tissue healing pain is resolved.  In this way we are able to explain the finding that lasers help to relieve pain.
Chronic pain is a sign of unresolved inflammation–the body being unable to heal an area of injury
Remember that chronic pain is most often a sign of unresolved inflammation in the tissue(s) that are the cause of the pain.  Inflammation in turn is the very process by which the body accomplishes healing of tissues.  When the body completely heals damaged or injured tissue, the inflammation resolves itself naturally, and with it the pain resolves as well.
Here are some of the additional factors that can interfere with the body's ability to heal injuries and which therefore contribute to chronic pain cycles:
Disruption of nervous system signaling
Immune system weakness
Dietary imbalances
Nutritional deficiencies
Body toxicity
Need for mind-body healing
Let's look at the first item on the list above.  Let's address the issue of the nervous system and how the disruption of the flow of information through this system via nerve signals can underlie a poor healing response and thus chronic pain.
Whenever injury occurs, and sometimes even in the absence of injury, there can be a disruption of signaling in the nervous system.  Signals from the brain to the muscles and other organs, and from the muscles and organs back to the brain are thrown out of balance.
You can think of it as static in the system.  If there is too much static on a phone line, you cannot hear or understand the person speaking.  This happens within the signal system of the human body as well. When this occurs, organs do not function as they should.  Muscle function can be weak or imbalanced and coordination of movement can be poor. Normalizing our signal systems is an extremely important part of full recovery from an injury or illness.
One way we normalize communication flow in the nervous system is with the cold laser.
The cold laser, in a sense allows us to talk to the nerves, telling them to turn up their power to a weak muscle.  You can think of it like replacing a fuse in a faulty electrical circuit.  Here are a list of just some of the conditions that we treat using the cold laser.  What I demonstrated, in terms of muscle strengthening, is just one of the many ways that we are using it therapeutically.
Tendonitis
Frozen shoulder
Fractures
Post-operative wounds
Sprain-strains
Scar tissue resorbtion
Autoimmune diseases
Chronic or acute pain
Wound healing
Arthritis
Migraines
Disc herniations
Minor nerve damage
Carpal tunnel syndrome
Heavy metal detoxification
By restoring normal communication within the nervous system we increase the body's ability to coordinate its healing processes and to heal an area of injury more quickly.  When this is an area of inflamed tissue, when the healing is completed the pain resolves itself.
We are beginning to understand how the cold laser works more and more.  The laser emits an energy frequency that is readily absorbed by tissues, whether its nerve tissue or muscle tissue or any other tissue.  By energizing the tissues it speeds up the healing of tissues.
Remember at the beginning of this article how we said that the energy of the cold laser light is absorbed by organs within all cells.  These organs within the cells are critical to each and every cell's healthy function.  They are called mitochondria, are the major place where useful chemical energy is made.  The cell uses this chemical energy, called ATP, to make proteins, synthesize hormones and neurotransmitters, and in the liver-to detoxify poisons.  The cold laser helps each cell to do its work more efficiently, whatever that is.
Many MN chiropractors are successfully utilizing cold lasers to help their patients bounce back from injuries more quickly or to heal an injury that has been chronic.
Dr. Harlan Mittag is a chiropractor in St. Louis Park and Minneapolis, MN and owner of Mittag Holistic Chiropractic.  He is a chiropractor, nutritionist and acupuncturist who specializes in the treatment of natural pain and natural pain remedies.  A graduate of Stanford University and Northwestern College of Chiropractic, he has had a clinical practice in Minneapolis, Minnesota for the past 25 years and is one of a number of MN chiropractors who utilize cold lasers.