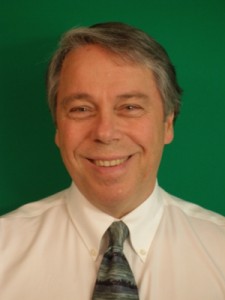 This is a personal note (over and above showing my credentials on the "About" page) to let perspective clients know a little bit more about how I practice.
Connecting with one's doctor is a big part of healing, particularly holistic healing.  While holistic healing is not shy on technology (cold lasers, electrical stimulation, electro-acupuncture, etc) it also relies on a connection between the doctor and patient.  Holistic healing is often about rebuilding one's health and can take time.  Trust is an essential part of the doctor-patient relationship.
One thing in my life that has given me more empathy and understanding of what my patients are experiencing is my own experience of (and healing of) a disc injury in my low back.  I'm reminded of the expression…
'It takes one to know one'.
A couple times in my life, I have experienced severe pain.  Enough to make me miserable and derail my life for a brief period.  Twice I resorted to serious pain killing drugs, which were a godsend at the time.  Let me tell you about my experience and how I was able to heal my low back (holistically).  It may be relevant to you and give you some confidence.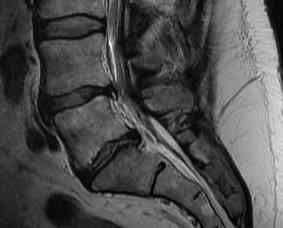 This MRI scan is of my low back in July 2008, and shows a severely herniated disc in my low back.
On the 4th of July weekend in 2008 I spent the entire weekend cleaning out our garage.  We couldn't use one of the car stalls because it was piled almost to the ceiling with boxes and "stuff".  By Sunday I felt a little low back soreness.  By Tuesday I was in such pain that my wife drove me to the ER.
I got some life saving pain meds that allowed me to calm down, sleep and rest.
Yet at the same time, I knew that there are serious side effects to the current pain killing drugs (the nsaid's, oxycontin and the other opiotes, etc.).  So following an MRI scan and a surgical consult, I resolved to get off of the pain drugs as quickly as possible. Because this is my business, my profession I had the resources (and knowledge) to do so.
Long story short, I was able to get back to work quickly, while avoiding a cortisone injection that I had scheduled during my visit to the surgeon.  One day a couple of weeks later I was driving home from work (pain free and off all pain drugs) when it occurred to me that I had just proven what I practiced.  I had managed to heal a serious low back condition in fairly short order, and had done so holistically (with the appropriate help of pain killers for the first few days).  I raced home and asked my wife to take my picture with the crutches that I had used during that painful week.  Here is that photo.  (The sun was almost down by the time I got home and got outside for the picture).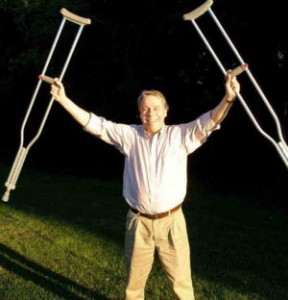 This site and my professional practice as a chiropractor are dedicated to giving you all of the resources available to solve your pain problem.
I hope that you'll take advantage of my offer of a complimentary consultation. Just fill out the form below with your name, email address and telephone number. I'll personally give you a call.
Sincerely,
Harlan Mittag, D.C.